Pretty glad that i can make it to the Bon Odori after i'm done with my work stuff. Seriously... the haze killed the festival... Besides that I'm also realized that i need a lens with better aperture... maybe at least a F 2.8 lens... So Bloody Sick of the lame 1600 ISO which generates one hell lot of noise. Alright... Less text... More pictures. Here are some Japanese wanabies over at the Bon Odori.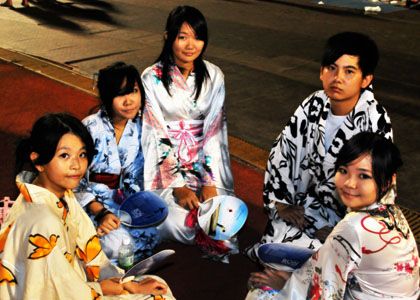 Took 4 hours of sleep and move on to Pisang Falls with Frog. Pisang Falls is located in Gombak... Route 68, few kilos off the old road up to Genting Highlands.
Today's group was pretty small i must say... Frog, Carol, Henry and me. Well... This was my first trip up there, and i think that IT WAS AWSOME. You have to make a run up there if you love adventure. Water up there was Balls Freezing cold! We have to track through a marsh in order to get to the falls.
Bloody tired now... Will continue tomorrow. G Night folks!