Well, this is the 2nd week of the bloody legends class transformers toy thingy from petronas. I never liked Petronas and their bloody pyramid scheme. The only reason i go for Them is because of the toys. This week featuring our beloved Decepticon leader Megatron and his sidekick Starscream.
"Even in death i'm still the leader of Decepticons!!!"
I'm quite happy with Megatron, lots of articulated joints, a fair amount of details and a cool transforming mechanism. A quick lining and paint job will do. I would be kinda busy this 2 weeks... Will start working on the mods when I'm free again.


This is our beloved Megatron right out of the box


As for Starscream... Hmmm... I'm not too happy about him...


Balls at the wing tips....


Legs not being able to fit properly under the Air intakes...


Crooked arms... And his gatling gun missing...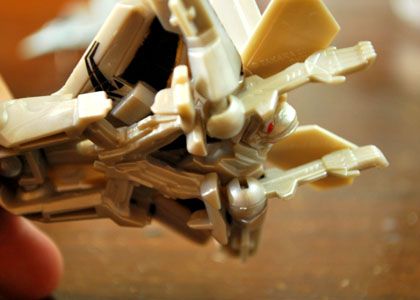 And I don't think I'm happy about how Ha$bro hide his arms in his F-22 mode. Here is Starscream dismembered so that I can Suck every tiny bit of leftover energon from his stinking husk work on him when i'm done with my stuff.

Would be working on a Transformable version of Devastator mod and have the mod pieces available for every transformers fan out there that wish to have each of his parts capable of transforming into a standalone Decepticon.